| | |
| --- | --- |
| | |
---
Delete Songs Directly on iPhone, iPad, or iPod touch
Posted: 09 Nov 2011 12:49 AM PST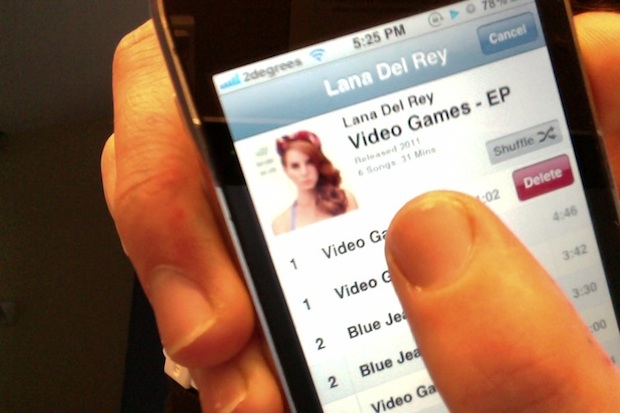 You can now delete songs directly from the Music app in iOS 5 on your iPad, iPhone, or iPod touch, without having to re-sync to iTunes:
Launch the Music app (used to be called iPod)
Tap through to any song, and slide sideways on the track name to bring up a red "Delete" button, tap that to delete the song
That's all there is to it, just another nice addition to iOS 5.
Thanks for sending this in Loic
Share iPhone, iPad, and Mac Calendars with Anyone Else from iCloud
Posted: 08 Nov 2011 10:55 AM PST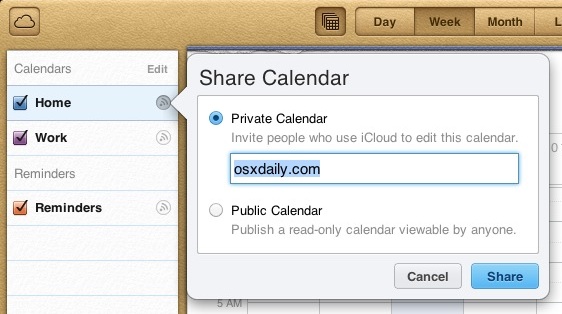 Using iCloud, sharing a Calendar from your iPhone, iPad, or Mac OS X iCal with anyone else is now easier than ever. It's a straight forward process that requires iCloud, set it up if you haven't already and get sharing, here's how:
Go to http://icloud.com and login with your Apple ID that's configured with iCloud
Click on the "Calendar" icon
From the left side Calendar menu, click the little radiowave icon next to the Calendar you want to share with others
Enter the iCloud email address of users who you want to share the calendar with, then click "Share"
The recipient can then find the shared calendar in their own iCloud Calendars list, but all parties must be using iOS 5+ and Mac OS X 10.7.2+. You can also choose "Public Calendar" to share the calendar with the world.
Great tip discovered by TheGraphicMac.
Posted: 08 Nov 2011 10:07 AM PST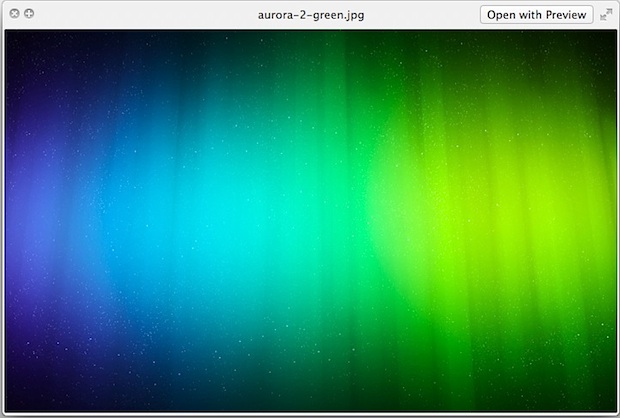 Looking for a few more gorgeous wallpapers for your desktop? This pack of colorful aurora themed images should do the trick, with two variations of each image, one with a Windows 7ish aurora stripey look and the other a blurred faint aurora more reminiscent of OS X. They all look great, and with the 2560×1600 resolution they should fit just about any screen size you're working with.
Download the wallpaper pack from DeviantArt
The wallpaper pack is hosted on DeviantArt, if you're having trouble finding their download link it's highlighted clearly below in an image, just look on the right side of the DA page.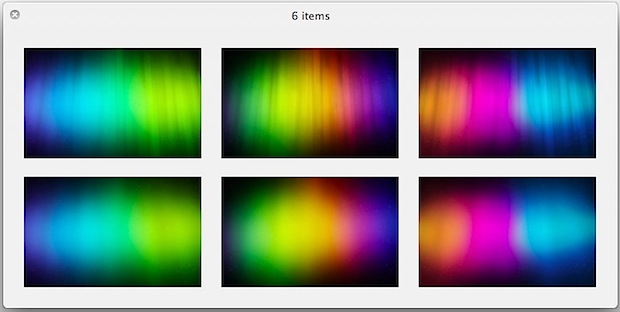 These background pics come from the same artist who produced the great looking star field and other aurora 6 pack, they've been keeping my Mac beautiful for months now.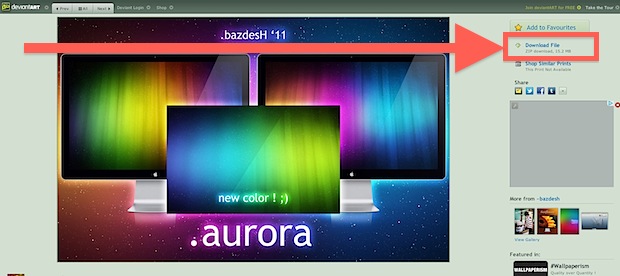 Hate Lines at the Apple Store? EasyPay Lets You Self Checkout
Posted: 08 Nov 2011 09:49 AM PST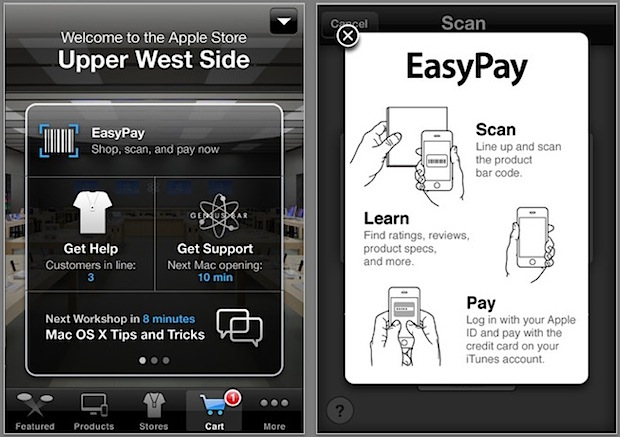 If you're in a hurry, visiting a busy Apple Store for a quick purchase can be the worst part of the experience. With all the store reps tied up with other customers, you can just sit around waiting aimlessly to buy something you already know you want. Apple's newly updated Store app aims to reduce that wait time, by allowing you to pre-order Apple products for quick in-store pickup, and with some other items, just buy them outright from your iPhone via the apps self checkout EasyPay option, skipping the lines completely.
Install the app on your iPhone, and with eligible store items you use the iPhones camera to scan the bar code and pay directly from your own iPhone with a credit card, no interaction with store personnel is required. Pay and you're on your way.
Grab the Apple Store app with EasyPay from iTunes
For those wondering, the EasyPay portion of the app requires an iPhone 4 or newer due to the higher resolution of the camera used for scanning barcodes.
Here's the official feature list via the iTunes App Store:
- Buy products on the go and pick them up at your favorite Apple Retail Store, or have 
them shipped to your door.
- Personalize an iPad or an iPod with free engraving, plus get signature gift wrapping for 
select Apple products.
- Buy an iPhone with just a few taps.
- While in an Apple Store, quickly purchase accessories on your own with EasyPay 
(requires iPhone 4 or iPhone 4S)
- Request help, check in for reservations, and meet up with a Specialist at the store.
- Make Genius Bar and One to One reservations and sign up for workshops and events.
This is a pretty great app for anyone in a time crunch (or for the agoraphobic), hopefully Apple expands the purchasable items list to include even more products.
You are subscribed to email updates from OS X Daily
To stop receiving these emails, you may unsubscribe now.
Email delivery powered by Google
Google Inc., 20 West Kinzie, Chicago IL USA 60610