| | |
| --- | --- |
| | |
---
Quickly Create a New Desktop for an App from Mission Control in OS X
Posted: 08 Nov 2011 01:55 AM PST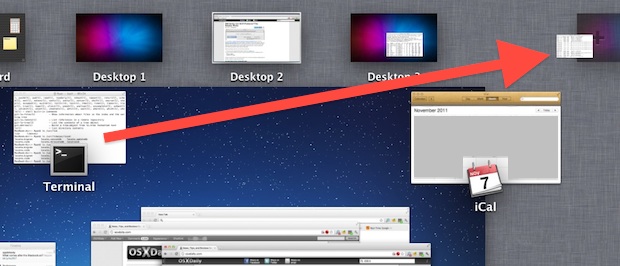 Using Mission Control, you can quickly create a new Desktop Space just by grabbing an app, dragging the window into the corner, and letting it go on the "+" plus icon.
After dragging windows around, you'll continue to stay in Mission Control, which lets you quickly rearrange and organize your desktops
You can also grab apps and drag them into existing Desktops to move them around quickly. If you're still getting the swing of Mission Control, don't miss our other tips on using the window and app manager new to Mac OS X 10.7.
iPhone Panorama Photo Option Hidden in iOS 5 Camera App
Posted: 07 Nov 2011 07:21 PM PST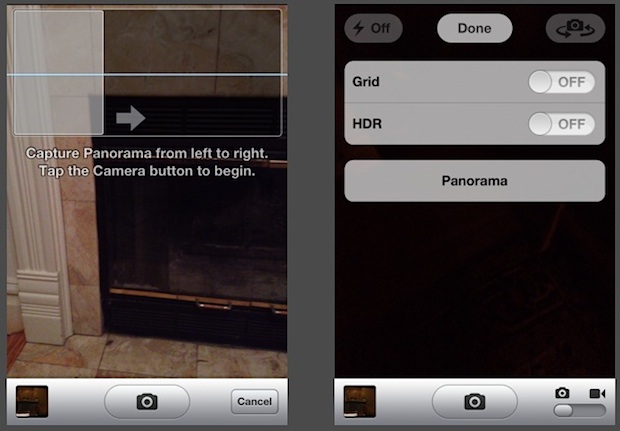 A hidden panoramic photo mode has been discovered in currently shipping builds of iOS 5 by an iPhone developer. The panorama option is enabled by adjusting a plist file in the Camera.app, but making modifications to plist files in iOS requires a jailbreak.
After the com.apple.mobileslideshow.plist file has been modified by setting 'EnableFirebreak' to YES, the Camera app shows the panorama option and will take and create panoramic images which can then be saved or sent just like any other image.
The user interface is clearly incomplete, and the final result is a bit rough as well, indicating the unfinished nature of the feature. You can see a sample pieced together image here (it's a large 6122×2852 pixels).
The discovery was made by @conradev and @chpwn on Twitter, who both posted individual photos demonstrating the user interface and resulting images (shown above).
The panoramic camera option will be available to current iOS 5 jailbreakers through the Cydia store shortly with an app called Firebreak, but for those who aren't interested in jailbreaks the discovery indicates that Apple is likely working to bring such a feature to future versions of iOS and the iPhone's camera app.
Invert the iPad or iPhone Screen to Make Reading at Night Easier on the Eyes
Posted: 07 Nov 2011 03:12 PM PST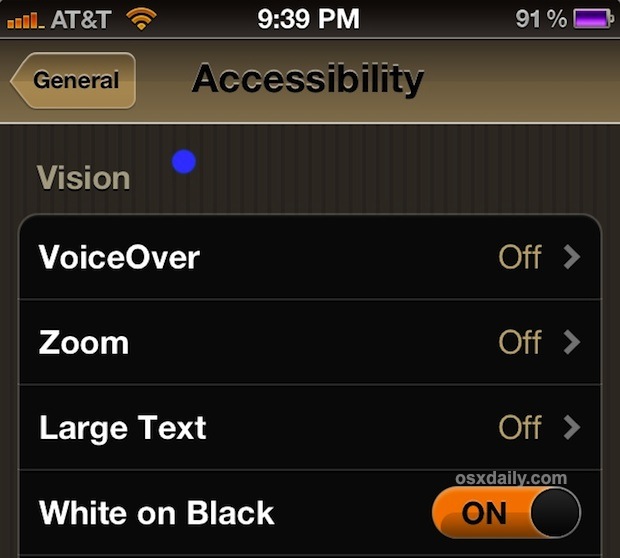 If you're like me you end up reading a fair amount while laying in bed using an iOS device. If you read in the dark, you can give your eyes a rest by turning on a little known Accessibility feature that inverts the display of the iPhone, iPad, or iPod touch to show white text against a black background rather than the default setting.
Enable Screen Inversion on an iPad or iPhone
Tap on "Settings"
Tap "General"
Choose "Accessibility"
Look for "White on Black" and drag the slider to "ON"
You will immediately see the change, which looks just like the screen shot above. I find this much easier to read with than just reducing the brightness, although it's not quite as good as something like Flux for the desktop. Yes there's an iOS version of Flux available, but it requires a jailbreak so that's not a viable option for everyone.
Inversion has been around since at least iOS 4, and while it's intended for those with vision issues it can also just be a great relief to those of us who read in the dark. It's also kind of fun to try and play games with the screen inverted, or just to turn this on a friends iPhone as a prank.
Firefox 8 Released [Download Links]
Posted: 07 Nov 2011 11:42 AM PST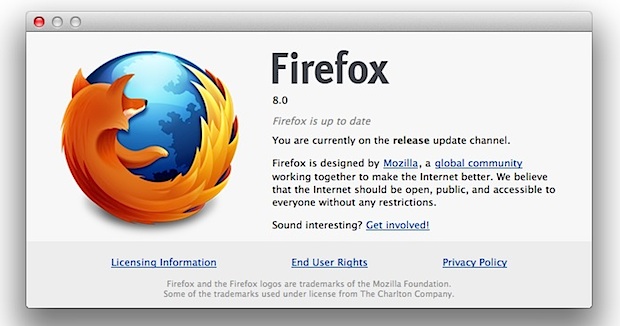 In the never-ending quest to make version numbers irrelevant, Firefox 8 has been released. Technically it's not supposed to be out until tomorrow, but as with past Firefox releases, the download was pushed early to the Mozilla public FTP servers and is widely available for anyone to pick up for each supported platform (Mac, Windows, Linux).
Features of Firefox 8 include Twitter search integration, improved HTML5 support, better extension/plugin security, and some tab improvements that I couldn't identify. When you first launch Firefox 8 you'll encounter the new add-on manager, which checks to make sure you installed the add-ons and not a third party. You'll also notice that the default Firefox page seems to think it's a beta version, but when you check the version number it's 8.0. Firefox 8 feels a bit faster too, particularly when loading from cache.
Download Firefox 8 Now
Mac OS X, Windows, and Linux versions are available, these are direct download links:
Mac OS X Lion users may be disappointed to discover that true Full Screen support is still absent in this release. You can enter into their own baked version of full screen mode with Command+Shift+F, but there is no full screen button in the upper right corner until you're already in, and the overall approach Firefox takes feels sloppy compared to Safari, Chrome, or any other OS X Lion apps handling of full screen mode. This leaves Firefox as the only remaining popular Mac browser that hasn't adopted full Lion feature support, but I'm sure it'll come eventually.
Untethered Jailbreak for iOS 5 Discovered, Work in Progress
Posted: 07 Nov 2011 10:19 AM PST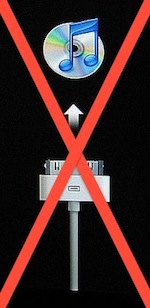 Exciting news for those who like to jailbreak the iPhone and iPad, a Dev Team member has discovered a bug that will allow for an untethered iOS 5 jailbreak. No time estimate has been given by @pod2g, but he cautioned on Twitter not to expect a release soon, although he is actively working on the jailbreak.
There is a jailbreak for iOS 5 available right now but it is limited to a tethered experience. You can read about the difference between tethered and untethered jailbreaks but the simple answer is that an untethered jailbreak is always preferential because it does not require the iOS device to be connected to a computer during boot. This means you can reboot an iPhone or iPad on the go and have full access to all applications, whereas a tether won't without the assisted boot procedure.
There is a so-called "semi-tether" jailbreak available for iOS 5 right now, and while it's better than nothing it's still fairly limited in that it requires a tethered boot for full device and app usage.
You are subscribed to email updates from OS X Daily
To stop receiving these emails, you may unsubscribe now.
Email delivery powered by Google
Google Inc., 20 West Kinzie, Chicago IL USA 60610