| | |
| --- | --- |
| | |
---
MacBook Air 15″ Coming in March of 2012?
Posted: 14 Nov 2011 07:10 PM PST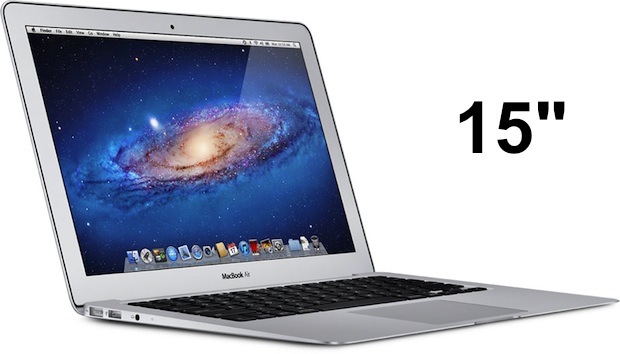 Component suppliers have informed DigiTimes that Apple is already gathering pieces to a 15″ ultra-thin notebook that is set to debut as early as the second quarter of 2012.
While DigiTimes cautions they don't know if the new laptop is a MacBook Pro or MacBook Air, Apple openly promotes the current MacBook Air lineup as "the future of the notebook", and a MacBook Air 15″ would be an excellent compliment to the product lineup.

Assuming a MacBook Air 15″ followed the weight difference (0.58lbs) of the existing 11″ and 13″ models, a theoretical 15″ model may weigh in at 3.54lbs.
On our personal wish list for such a machine would be 8 GB of RAM, 256 GB SSD standard with a 512 GB SSD option, 1680×1050 or higher resolution, a discrete GPU, and Core i7 processors at 2.5GHz or above, while still retaining the stellar battery life that all of Apple's devices are known for. A built-in coffee maker and personal assistant would be nice too, with the former being unlikely but the latter a possibility through the rumored Siri integration in future versions of OS X.
Make a RAM Disk Easily with TmpDisk for Mac OS X
Posted: 14 Nov 2011 02:36 PM PST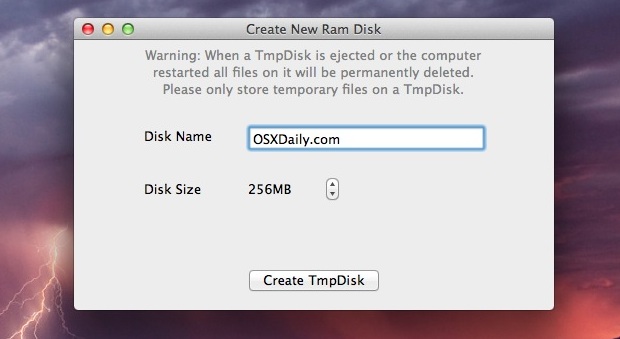 If you want to quickly make a RAM disk for use on your Mac, you could create one manually through the command line, or you can make it even easier by downloading TmpDisk for Mac OS X. The open source application uses a menu bar item to quickly make ramdisks from anywhere and of any size, the only restraint is that you have the physical memory to be able to accomodate the disks creation.
Throw the app into your /Applications/ folder and launch it to see the little disk icon in your menubar, click on that and choose "New TmpDisk", specify a size, and a RAM disk is created instantly on the Mac desktop, ready for use.
RAM disks are temporary – hence the apps name – so you won't want to place anything intended to be permanent there, but for cache files, photo and video editing, and anything else that you want absolute maximum speeds from, they can't be beaten. Just remember to copy your files out of the temporary disk before you reboot or eject the drive so you don't lose anything.
How to Use AirDrop in Mac OS X
Posted: 14 Nov 2011 11:53 AM PST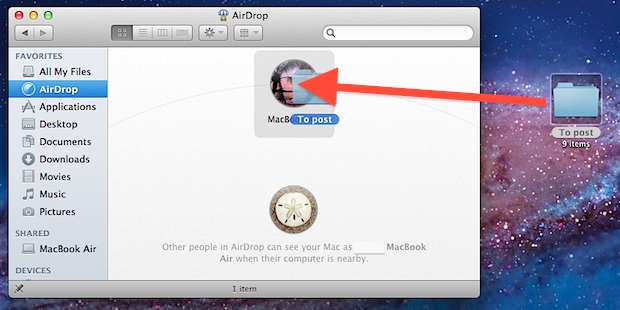 Using AirDrop is the quickest way to transfer files between two Macs, even if they're not on the same network or if there is no Wi-Fi network available to connect to. This is done by creating an instant Ad-Hoc network between the Macs, and there is practically no configuration required. For those who have never used AirDrop before or who have ran into problems with it, here's how to move files between Macs the easiest possible way.
AirDrop Requirements
All Macs must running Mac OS X 10.7+ and have AirDrop support (here is how to enable AirDrop on older unsupported Macs or over ethernet too)
Macs must be within reasonable range of each other, but not necessarily on the same network
Both Macs must open the AirDrop window before they will be visible to each other – this seems to be the primary point of failure for most users who can't get it to work
Using AirDrop to Transfer Files Between Macs
Open AirDrop on both Macs, you can do this through any Finder window by clicking "AirDrop" in the sidebar or by hitting Command+Shift+R from anywhere on the Mac OS X desktop
Wait a few seconds for the Macs and their user icons to appear in the AirDrop list – all Macs wishing to transfer files must open AirDrop to become visible to each other
Drag and drop files to the Mac you want to send files to, click the "Send" button when asked to confirm

On the recipients Mac, they'll get a notification of incoming files with the option to accept or reject, click on "Save" to start the transfer

A file transfer progress indicator appears around the user icon of the Mac, and you can watch progress in the "Downloads" icon of the Dock
Transferred files are stored in the recipients "Downloads" folder, located in their user home directory or accessible from the Dock
Assuming all the Macs are running OS X Lion, the primary point of failure in nearly every instance of AirDrop troubleshooting is the lack of both users opening the AirDrop folder. Such a simple mistake causes frustration and people to believe the service doesn't work, but it's just as simple to resolve. I've encountered several instances of this directly and I'm sure many others out there have as well.
As mentioned earlier, you can enable AirDrop over ethernet connections and also on unsupported Macs, but they still must be running Mac OS X Lion. For the tinkerers out there, you can also change the AirDrop sound effect from that 'pop' sound to something else.
iTunes Match Launched with Release of iTunes 10.5.1 [Download Links]
Posted: 14 Nov 2011 09:40 AM PST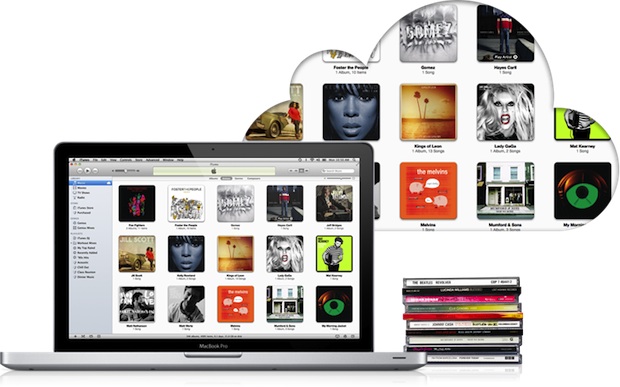 iTunes Match has been launched in the USA by Apple with the release of iTunes 10.5.1. The Match service costs $24.99 a year to store your entire music library within iCloud allowing you to stream it to any iOS 5+ iPhone, iPad, iPod, Mac, or Windows PC, regardless of where your music has come from. This means music that you have ripped from your own CD's, gathered over the course of time, downloaded from the web, or bought from iTunes, are all accessible to be streamed through the iTunes Match service.
To use iTunes Match, you'll need to sign up for and set up iCloud if you haven't already, then install the latest version of iTunes. After launching iTunes, you'll see a new "iTunes Match" option under left sidebar where you can sign up for the service.
Download iTunes 10.5.1
You can get the latest version of iTunes through Software Update, iTunes Update, or by downloading it directly from Apple:
Download from Apple.com/iTunes (no email address required just click big blue 'Download' button)
(Direct download links for Mac OS X and Windows coming soon)
Apple describes how iTunes Match works as so:
Here's how it works: iTunes determines which songs in your collection are available in the iTunes Store. Any music with a match is automatically added to iCloud for you to listen to anytime, on any device. Since there are more than 20 million songs in the iTunes Store, chances are, your music is already in iCloud. And for the few songs that aren't, iTunes has to upload only what it can't match. Which is much faster than starting from scratch. Once your music is in iCloud, you can stream and store it to any of your devices. Even better, all the music iTunes matches plays back from iCloud at 256-Kbps AAC DRM-free quality — even if your original copy was of lower quality.
The last point of upping the quality of songs is rather substantial, since anyone carrying a music library around for quite some time undoubtedly has many 128kbps songs in their library.
There is a limit of 10 devices and 25,000 songs to the service, although songs purchased from iTunes Store do not count against that limit.
Add or Remove Apps from Notification Center in iOS
Posted: 14 Nov 2011 09:18 AM PST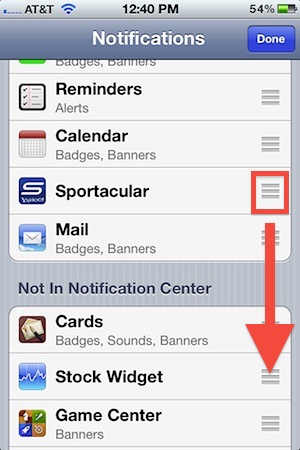 You can quickly add or remove any items from Notification Center in iOS through the central system settings. This isn't the same method as disabling an item like the stock ticker, but it's faster if you want to adjust several apps at once.
Open "Settings" and tap to "Notifications"
Scroll down to "In Notifications Center" and tap on the "Edit" button in the upper right corner
Tap and drag from the right-side of any iOS app, drag down to remove an app from Notifications Center or drag up to add an app
Click on "Done" when finished and close out of Settings
Changes are visible immediately by pulling down Notification Center with a swipe down from the iOS clock.
Using the same settings panel, it's also possible to adjust precisely where an app is displayed within Notification Center, rather than relying on the two default sorting options.
You are subscribed to email updates from OS X Daily
To stop receiving these emails, you may unsubscribe now.
Email delivery powered by Google
Google Inc., 20 West Kinzie, Chicago IL USA 60610